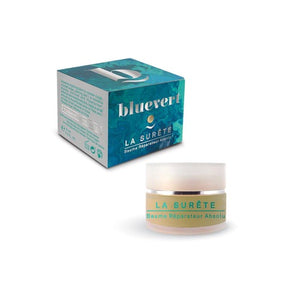 Bluevert La Surête Baume Réparateur Absolu The Ultimate Repair Balm
Bluevert La Surête Baume Réparateur Absolu The cold, wind, dryness, stress, and endless internal and external influences, produce cracks, flaking and even itchiness to our skin. 
Bluevert has created an unique product to relieve, hydrate and protect the skin against these problems thanks to its anti-inflammatory action.  Its potent healing properties also calm the discomfort produced by minor solar burns and/or scratches.
The Baume Réparateur Absolu from Bluevert repairs rough and cracked skin and/or flaky, dry areas.  Enriched with Plasmarine™ botanical resins and marine extracts.
Thanks to its 8 powerful active ingredients, its creamy texture and aroma of incense, this miraculous formula rapidly repairs even the most deeply affected areas.
15ml
Paraben Free - Mineral Oil Free
How to use
Apply a small amount of product to the affected areas on the body and/or face.  Massage lightly.  Do not remove or rinse.
Active Ingredients
Plasmarine™, Botanical Resin of Croton Lechleri, Glycolic Acid, Almond Oil, Essential Oils of Incense, Tocopherol, Vegeline, Oil of the Sacha Inchi Seed.