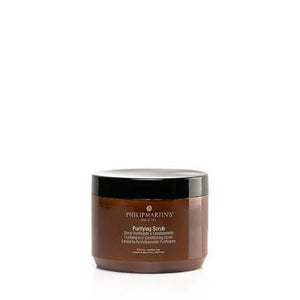 Philip Martin's Purifying and Detoxifying Scrub
Philip Martins purifying scrub is a purifying and detoxifying scrub which helps the scalp and the epidermis to regain their natural balance. Thanks to the active principles it removes the toxins from the scalp, reactivates the blood circulation, and relieves swollen legs leaving a pleasant sensation of freshness.
HOW TO USE Philip Martins purifying scrub:
Apply before shampooing massaging thoroughly the entire scalp for a few minutes to obtain a gentle exfoliation effect. Leave on for about 15 minutes to maximize the purifying and refreshing effect. Proceed with the appropriate shampoo and conditioner.  You can apply as well on your body and massage thoroughly.
Ingredients
Powder of Apricot Seed • Exfoliating Centella Asiatica Extract • Purifying Polyphenols • Sebum Regulating Cucumber Extract • Astringent Menthol • Refreshing • 
500 ml
Philip martin's hair products • scalp benefit • Philip martins scalp benefit • scalp benefit Philip martin's • Philip martin's scalp benefit • Philip martin's scalp nutriment spray • Philip martins scalp benefit • Philip martin's scalp benefit purifying mask • scalp nutriment spray • Philip martin's scalp nutriment professional