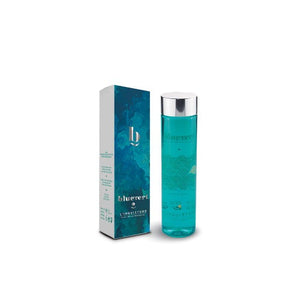 Bluevert L'Inquiétude Lotion Marine Révelatrice Anti-Stress Refining Lotion
Bluevert L'Inquiétude Lotion Marine Révelatrice The second step of your skincare routine is as important as the first, this is why a good toning lotion is a must after cleansing.
A good toning lotion, will do more than simply restore the pH levels and skin's moisture, it will also act as a vehicle to efficiently transport the active ingredients applied later, distributing them evenly to each individual layer of the skin. 
In addition the Lotion Marine Révelatrice will softly exfoliate the outer layers of the skin enabling the active ingredients to penetrate fully.
With a light, aqueous texture, it will leave your skin purified, calmed and hydrated without leaving an oily sensation.  Thanks to its sebum regulating action, the toning lotion will control the excess of sebum in the skin, controlling the size and depth of visible pores.
L'Inquiétude Lotion Marine Révelatrice is anti-ageing, it contains botanical extracts of sweet almonds and chamomile. 
It is enriched with a complex of AHAs in a 5% concentration ti renew and softly exfoliate the skin daily.  It is formulated with sea water and it contains 17% of active ingredients.
200ml
Paraben Free - Mineral Oil Free
How to use
After cleansing your skin daytime and nighttime, apply a small amount of the product on a cotton pad and gently wipe.  Do not rinse, wait until it dries and follow up with L'Inquiétude Sérum Initiatique Jeunesse and L'Inquiétude Crème Prévention Suprême.
Active Ingredients
Complex of Marine & Botanical Anti-Wrinkle Ingredients, Extract of Sweet Almonds, Extract of Chamomile, Complex of AHAS, Botanical Sebum-Regulator, Botanical Extract to Reduce Pores.